Might
119
Agility
74
Vitality
564
Will
1096
Fate
521
Morale
7075
Power
5851
Armour
4956
Trait Points
0
Played by Charla
Main, Active Member
Explorer
·Supreme Master Forester
·Supreme Master Prospector
·Supreme Master Tailor
Eastemnet Master with the Tailor Crafting Guild.
Epic Progress
Volume 1: Completed Vol. I, Book 15
Volume 2: Book 6, Chapter 8
Volume 3: Book 1, Chapter 1
Rank 0 (167) in the Ettenmoors, with 0 Killing Blows.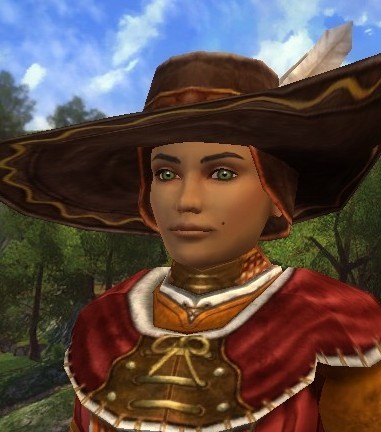 Charla is a hobbit of the Shire. Nothing more and nothing less. She grew up in Overhill with her three older brothers and younger sister. Charla's was a happy family and she was especially close to her youngest sibling, Zavia. Charla and Zavia were unusually daring for hobbits. As children, they explored Bindbole Wood, the Greenfields and even as far as the Brandywine River. However, although Charla had an adventurous spirit, she never dreamt of leaving the safety of the Shire.

Until one day, Zavia disappeared. At first, Charla and her family were unconcerned. They assumed Zavia had taken off on one of her regular hunting trips. But when Zavia failed to appear at the Annual Summer Party, Charla knew something was seriously wrong. And so she packed her lute and enough food rations for a short trip and set out to find her baby sister. Little did she know that her journey would take her well beyond the boundaries of the Shire.