Might
926
Agility
115
Vitality
826
Will
295
Fate
340
Morale
7923
Power
4883
Armour
5067
Trait Points
0
Played by The Eldrenath
Alt, Active Member
Tinker
·Supreme Master Cook
·Supreme Master Jeweller
·Supreme Master Prospector
Eastemnet Master with the Jeweller Crafting Guild.
Epic Progress
Volume 1: Book 10, Chapter 1
Volume 2: Book 4, Chapter 7
Volume 3: Book 2, Chapter 7
Rank 1 (500) in the Ettenmoors, with 0 Killing Blows.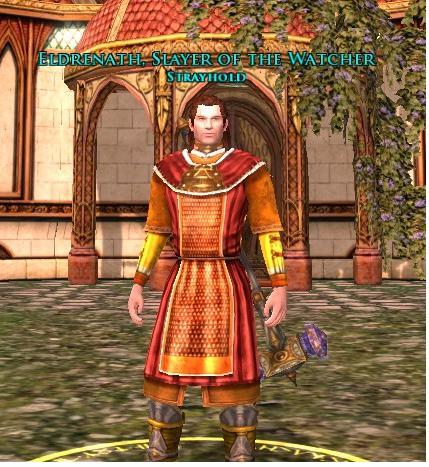 Eldrenath Sendori was born and raised in Rohan. He started life as a simple farmer, woking the fertile fields of the Westfold. However, when Saruman's orcs began their raids into Rohan, Eldrenath found himself somehow leading a small militia of farmers that had come together to defend their farms. They withstood more than would have been expected but were, in the end, defeated nearly to a man. Eldrenath managed to escape, and after many tribulations found his way to Bree, where he decided start his life anew.

It soon became clear to him, however, that he still bore the scars of his experiences with Saruman's orcs, and he could not go back to life as a farmer. And so he took up the halberd he bore in the Westfold and set out into Eriador, the better to meet the evils wherever he found them.